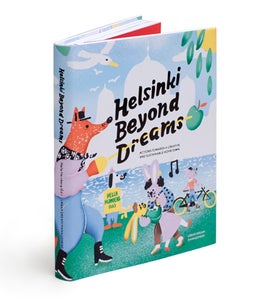 €

9.90 - On Sale
Helsinki Beyond Dreams is a new book about urban culture and how it can make a difference.
Edited by Hella Hernberg and published by Urban Dream Management, the book includes essays by a culturally varied group of urban activists, thinkers, designers and artists.
172 x 226 mm, 204 color pages
Hard cover with dust jacket
Second edition (2013)
ISBN 978-952-93-2538-2
The price includes VAT (10%)
Please find more images and info at: www.helsinkibeyonddreams.com
If you are a retailer or have any other questions, please contact us: books(at)urbandreammanagement.com
NOW ON SALE UNTIL THE END OF APRIL!